Home Page H1
Home Page H2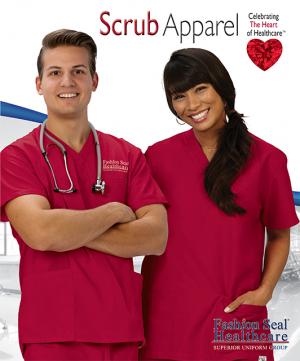 Press Room
Fashion Seal Healthcare Shows "Heart" for Healthcare Professionals with New Scrub Apparel Catalog
SEMINOLE, FL., March 29, 2016 – Fashion Seal Healthcare®, a signature brand of Superior Uniform Group, Inc. (NASDAQ: SGC), announced today the release of its new scrub apparel catalog. The catalog pays tribute to the dedicated men and women who are the "Heart of Healthcare," working each day to provide positive outcomes and experiences to patients and their families. Geared toward healthcare organizations, distributors and laundries, the catalog features lifestyle photography that provides a fresh, new look.
The catalog highlights traditional scrub shirts, pants and warmups, as well as several exciting new styles and colors. A multitude of fabric options assure a perfect fit for acute and non-acute applications, as well as industrial and home laundering.
"Healthcare professionals truly represent the 'heart of healthcare,' from an operational and emotional perspective. We want to recognize their hard work and dedication," says David Schechter, vice president, marketing at Fashion Seal Healthcare. "A well-designed uniform program helps them improve the overall healthcare experience for patients and their families."
This new catalog is easy to navigate, with expanded style and fit guides, as well as jewel-themed color-coding to distinguish different product offerings.
View the new scrub apparel catalog online or request a copy at [email protected].