Home Page H1
Home Page H2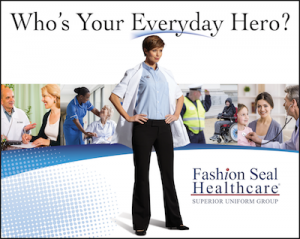 Press Room
Fashion Seal Healthcare Announces Winners of Everyday Hero Contest
Fashion Seal Healthcare® is pleased to announce the grand prize winner and runner-ups for our Everyday Hero Contest -- See below for their nominations!
We were thrilled to receive an influx of entries from patients, co-workers and family members of the nominees, describing how they have made a major impact in others' lives. Fashion Seal Healthcare salutes not just the nominees, but ALL employees in the healthcare industry for what they do today and every day – True Everyday Heroes!
GRAND PRIZE WINNER
Tobey E., RN
Hospital
I would like to nominate Tobey E. as an Everyday Hero. See, she isn't only an RN, but she is also my mother. I became gravely ill on May 29, 2015. After emergency surgery, for a perforated gastric ulcer and splenectomy, as I lay in the ICU on the vent, septic, totally unaware as to what was going on, my mother stepped in, explaining to my husband and other family what was going on, when the doctors didn't break it down for them. She drove over an hour every day to come and take care of me, and to make sure that my two young children (Bryleigh four-year-old little girl, and Paisleigh, eight month old little girl) were taken care of. After leaving me at the hospital, she would come and watch my children, so that my husband could come and see me. I spent eight days in the ICU, 18 days total in the hospital. She was there when I got out of the hospital to help me take care of the girls. I am so proud to say that my mom is an Everyday Hero! I know it had to be so hard to see her baby so sick, and I honestly hope that I am never faced with the same task. I would not be here today if it wasn't for her, and I can only aspire to be the nurse that she is!
RUNNER-UPS
Sharon S., LPN
Clinic
Sharon is a perfect example of an efficient and humble nurse. She has worked with Dr. Kagan since 1987, at which point my three children were patients with his office. During the years my nieces, nephews AND grandchildren have become patients of the practice. Sharon has bridged two generations of children and four generations of family members with kindness, patience and exceptional clinical skills. Sharon is deserving of recognition for her contribution to our community's medical field.
B. Patel, MD
Clinic
Dr. Patel has devoted his entire life helping patients a lot of times knowing the patient couldn't pay. He always takes extra time with each patient and saves many lives in the process. He saved my life twice. One time when he discovered that I've got a heart murmur and the valve stuck the second time was when my depression hit. He also met me at his clinic when my daughter was slipped meds. He stayed till after midnight until she was stable enough to send home without charging me a dime.