Home Page H1
Home Page H2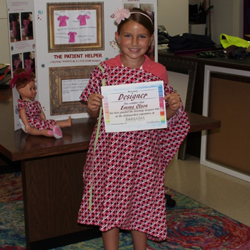 Press Room
Young Inventor Visits Fashion Seal Healthcare
Fashion Seal Healthcare®, a signature brand of Superior Uniform Group, Inc.® (NASDAQ:SGC), extended an invitation to Emma Olson and her family to visit their local headquarters in Seminole, Fla. after Ms. Olson won an invention contest at local school, Oakhurst Elementary.
Emma Olson's winning invention was a patient gown called The Patient Helper – Helping Patients Be A Little More Patient. She was inspired to invent the gown after speaking to her grandfather on the phone during a recent hospital procedure he shared his frustration with his granddaughter on how difficult it was to get in and out of the patient gown he was provided by the hospital.
"The purpose of the Patient Helper is to help patients with limited mobility easily remove their hospital gown without losing their patients," Emma stated while visiting the Fashion Seal Healthcare headquarters. As she toured the Design Department she explained how the gown worked "when you pull the string on the front of the gown, it unlatches the magnets on the back of the gown." Emma also added that she sewed the life-sized patient gown herself and made a mini version for her doll.
Lisa Stewart, Vice President of Design, was on hand during Emma's visit to present her with a certificate granting her the honorary designer title. "Emma's idea has inspired us all at Fashion Seal Healthcare, our number one goal is to design healthcare garments that make the patient experience more pleasant."
The invention contest was held by The Oakhurst Elementary Gifted Program, where Emma is currently a third grader. After her recent win she will go on to present The Patient Helper at a district level.