Home Page H1
Home Page H2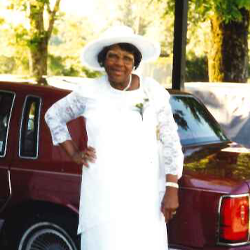 Press Room
Home Healthcare Business with Family Ties
"I am living my purpose and passion, which is caring for others, just as my mother did", said Ella.
Fashion Seal Healthcare® began as a family business and that spirit of family carries over to the customer first relationship we have with our customers.
Chicago-based Gareda Homecare Services was looking for a uniform provider for their 1,800 dedicated home healthcare workers. Ella (Jenkins) Grays, CEO of Gareda, reached out to Fashion Seal Healthcare because she knew from personal experience that we take great pride in the products we manufacture and the employees that make our operations possible. Ella's mother, the late Re-Ella Walker, worked at Fashion Seal Healthcare's garment factory, located in Eudora, Arkansas, from October 1968 to November 1986 for a total of 18+ years as a sewing machine operator in bartacking. She recalled how much her mother enjoyed her job and how proud she was to work for a company that made such a big impact in their community.
Re-Ella was a big influence on Ella's decision to work in the home healthcare business. Inspirational values of attitude, purpose and passion were instilled into her by her mother – which are important qualities in running this type of business. Re-Ella made giving back a regular routine in her family's life by taking her children to visit seniors and disabled patients in their local community while they were growing up. This taught them about compassion, empathy, gratitude and community responsibility. This early influence of helping those who could no longer care for themselves resonated with Ella and she continues to do so in her business and personal life.
After Re-Ella passed away, Ella had a strong desire to give back to the city of Eudora and pay tribute to her mother's legacy and loyalty to the community. While shopping for scrubs at Fashion Seal Healthcare's Eudora uniform store, it occurred to her that partnering with us to provide a uniform program for her staff would help the community by supporting a company that employs over 200 local workers, many who are long-time friends of her mother and hers.
Implementing a uniform program is a major decision, so while Ella had personal ties with Fashion Seal Healthcare, she did accept proposals from a few other uniform providers in order to compare their capabilities. After going through a detailed decision-making process, she selected Fashion Seal Healthcare because of our value-added services, uniform program management and customer service. Not only are her employees thrilled with their new uniform program, her clients are delighted that they can clearly identify the caregivers who come into their homes.
Ella is grateful she was raised by a wonderful woman who was not only her mother, but also her hero.