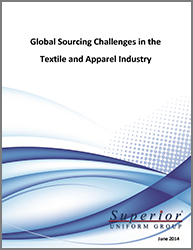 Press Room
Global Challenges
Alan Schwartz, President of Superior Uniform Group®, has inked his latest white paper on global sourcing.
The worldwide economic landscape changes every day and these changes present opportunity for great reward. Those who seek these rewards must navigate the minefield of risks in order to achieve successful outcomes. While global sourcing offers numerous benefits, there are various challenges that arise. These challenges can greatly impact textile productions in the absence of knowledgeable and proactive guidance.
 
Global Sourcing Challenges in the Textile & Apparel Industry white paper Excerpt from the Global Sourcing Challenges in the Textile & Apparel Industry white paper:
This paper will address the "new inflation" in the global sourcing of textiles and apparel. The new inflation
represents the components having the greatest impact on pricing and sourcing for the near term. These
components include:
Raw materials
Compliance Foreign currency/exchange rates
Energy
Transportation
Chemicals and dyes
Free trade agreements
Altruism
Raw Materials
Most can aptly recall the severe cotton shortage that affected the world in the latter part of 2010 and for most of 2011. At that time, prices were increasing on a daily basis, and at times, without any rhyme or reason. In today's marketplace, raw material prices are relatively stable. This stability is really measured over the last two years from about January 2012 through the first quarter of 2014. Cotton prices have remained within certain parameters as have polyester prices. In looking at today's global sourcing challenges, raw materials are not the same issue they were four years ago. While conditions could certainly change at any time, right now there is reasonable stability in the world marketplace.