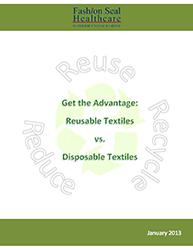 Press Room
Get the Advantage
Medical textiles are one of the most vigorously growing sectors in the textile market. This includes such product categories as precaution gowns,
patient gowns
,
laboratory coats
and
scrubs
.  The rising need for medical textiles is due to the increase of patients, a result of longer life spans, more Americans having access to healthcare and more advanced healthcare procedures. Healthcare facilities could use cost-effective textile supplies to reduce operating costs, which are increasing due to the influx of patients, unpredictable economy and reduced Medicare assistance. A comparison of reusable versus disposable products reveals the overall advantages of reusable textiles, including cost savings, waste reduction and infection control.
Cost Savings
A major misconception driving healthcare facilities to use disposable textiles is the assumption that they are more economical than using reusable textiles.