Home Page H1
Home Page H2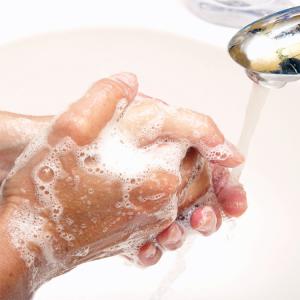 Press Room
Germ Warfare: Fighting the Spread of Bacteria
Today it seems that everywhere our travels take us -  whether it be the movies, a restaurant, the nearby grocery store, the mall and even the doctor's office, we are finding ourselves  entrenched in a battle to fight the spread of bacteria and cross contamination.  Fighting the spread of germs and bacteria is on everyone's mind these days more than ever before.   We are seeing more and more public facilities offer hand-sanitizing dispensers as an alternative to fight the spread of these germs.  In fact, I am willing to bet that many of us carry a travel-sized sterile cleanser in our briefcase, purse or car.  This was very evident to me last night as I was flying back home from a business trip when I saw a mother actually wipe down the seats her children were in with a sanitizing towel prior to take off in an attempt to prevent any bacteria cross-contamination to her children.
 
Bottom line – we are gearing up for battle and willing to take whatever steps needed to stop the spread of bacteria and any chance of cross-contamination.  So with all these added precautions, I need to ask WHY do some healthcare professionals not think the same way when it comes to raveling outside their work environment in their uniforms, whether it be scrubs and/or lab coats?

With my work, I travel to and visit multiple laundries and healthcare facilities on a weekly basis.  Sadly, and to my dismay and concern, even though the majority of these facilities offer laundering services for employee uniforms whether it is by a commercial, co-op or OPL, many employees still opt to drive to and from work and home launder.  I wonder if they realize the risk they are taking of cross-contamination and spreading of bacteria into their own household, even possibly putting their own family at risk of contracting bacteria.  

Personally, I find the concept of home laundering healthcare uniforms worn to work to be unsafe and not smart.  Why would anyone working in healthcare take the uniforms worn in a germ /bacteria filled environment all day long home to co-mingle with the rest of their family's clothing is beyond my comprehension.
 
Think about this – according to local and state laws and regulations, the water temperature used in home washers is not to exceed 120 degrees in an attempt to prevent the consumer from injury. Water temperatures of water used in commercial laundries however can range from 145 degrees to 165 degrees, thus affecting the spread of bacteria and germs.  Also chemicals used today in an industrial setting offer more when it comes to killing germs and preventing the spread of bacteria than detergents used in home environments.

More and more healthcare facilities are taking a proactive approach in implementing dress code policies as well as implementing procedures to ensure healthcare professional no longer wear their uniforms outside the healthcare facilities in public( restaurants, coffee shops, airports, etc.) and taking them home for home laundering.
 
Cross-contamination and preventing the spread of bacteria and germs is a real hot button these days and you will see a move with more and more healthcare facilities taking a proactive lead in implementing dress code policies that will prevent their employees from wearing their uniforms outside the workplace and taking them home for home laundering.  Implementation of these policies is going to be an uphill battle, bit one that works and helps in our fight to prevent the spread of germs and bacteria.

Scott Delin
Vice President Healthcare Sales
Fashion Seal Healthcare