Home Page H1
Home Page H2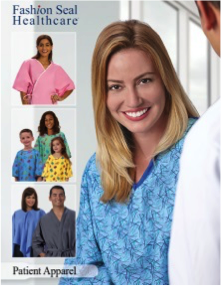 Press Room
Fashion Seal Healthcare® Brand to Unveil New Patient Apparel Catalog at The 2017 Clean Show in Las Vegas
SEMINOLE, FL., June 5, 2017 – Fashion Seal Healthcare®, a signature brand of Superior Uniform Group, Inc. (NASDAQ: SGC), is unveiling its new patient apparel catalog at The 2017 Clean Show in Las Vegas June 5-8. The patient apparel selections were designed to enhance patient comfort and include an assortment of exciting new styles, color and patterns.
Featuring more than 140 styles, the 48-page full-color glossy catalog is a complete guide to patient apparel for both acute and non-acute environments.  Along with the new styles and patterns, Fashion Seal Healthcare® is introducing a new pediatric line, The Mobies™ which feature 100% Poly Knit Flame-Out gowns and pajamas. The Mobies™ sleepwear has a variety of fun and modern characters, perfect for any child, while keeping them comfortable during their stay at a healthcare facility. 
"We are very excited about the roll-out of our new patient apparel catalog. The catalog features fashion forward, modern styles intertwined with classic, timeless styles that patients have come to know," says Peter Benstock, President of Fashion Seal Healthcare.  "Our customer-first approach has allowed us to enhance the patient experience while providing the superior performance healthcare laundries demand" 
About The Clean Show
The Clean Show, held every other year, is the industry's biggest event for the laundering, dry-cleaning and textile care industry. More than 10,000 people from across the globe come to the Clean Show to compare different product line.  
About Fashion Seal Healthcare®, a brand of Superior Uniform Group, Inc. ® 
Fashion Seal Healthcare® is an innovative provider of uniforms and image apparel for the healthcare industry. Leaders in uniform program design, global manufacturing, and cost-effective distribution, Fashion Seal Healthcare helps healthcare organizations and Facilities achieve a professional appearance and communicate their brands through apparel in the ever-changing healthcare environment. Fashion Seal Healthcare has partnered with prestigious healthcare laundries and distributors throughout the nation since 1920 to provide an extensive offering of scrubs, patient apparel, and lab coats to a vast number of healthcare facilities. The company's commitment to service, technology, quality and value-added benefits, as well as its financial strength and resources, support customers' diverse needs while embracing a "Customer 1st, Every Time!" philosophy and culture.
For more information, call 1-888-491-5818 or visit http://fashionsealhealthcare.com/.