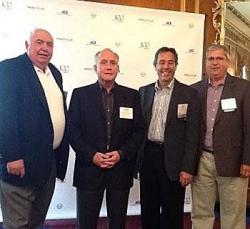 Press Room
Congratulations
Alan Schwartz, president, Superior Uniform Group, was a featured panelist during the NELA 100th Anniversary Meeting
The NorthEast Laundry Association (NELA), which represents the textile supply and service companies in New England, hosted its 100th Annual Meeting & Fall Conference here Sept. 21-23.
Ronald Croatti, president/CEO, UniFirst Corp.; Alan Schwartz, president, Superior Uniform Group; and Arthur Spilios, CEO, Crown Linen Services, were the featured panelists during the business meeting. Their three family-owned companies share a strong commitment to quality and customer service, NELA says. The panelists provided insight into how the industry has changed, including the number of products offered, globalization, and technology.
The weekend's festivities culminated with a dinner dance in the Imperial Plaza Ballroom of the Park Plaza Hotel.